By Natalie Brobin
As I became educated on my daughter's genetic disorder called Turner syndrome (TS), the more I worried about the many possible health issues, learning issues and social issues that my daughter could have. I worried about so many issues that never actually happened! I worried she would have a hard time learning in school. I worried she wouldn't have friends and would get bullied. When I found out about more heart issues, I never fully relaxed until she had surgery years later to repair it. There were times I was frozen with anxiety because of the stress. Sounds exhausting, doesn't it? 
It is so hard when someone you love is diagnosed with a lifelong health condition. When it is your beloved child, it is devastating. I know I was completely blindsided. I missed some of the blessings along the way because I was so worried. My biggest piece of advice to parents of a child who is newly diagnosed with a serious health condition is to get educated on their health issue, but enjoy each day as it comes. Try to live in the present moment.
Present Moment
What does that mean exactly? I see this phrase all the time. It's become a buzzword of sorts. For me, instead of dealing with the current health issues and enjoying my beautiful daughter, I worried about all the diagnoses my daughter "could" have. I would have lived for today instead of living in fear of the future.
Oh, I did a lot of the right things. I researched and read everything I could find. I reached out to an advocacy group and attended their annual educational conferences. I found other parents who could understand what I was feeling through online support groups.
I did enjoy her. Early on, she had an easy-going personality and was a joy to parent. I tried to make her doctor appointment's fun by telling jokes to keep her smiling. We laughed when we discovered we had left one of her Dr. Seuss books at an appointment two years previously. We celebrated when she had good check-ups. Sometimes there were some tears (usually mine) which would always make her laugh!
I did appreciate her successes in a way that I never could with her siblings. When I would watch her play sports, I would get teary eyed picturing her in the PICU after her first open-heart surgery as a baby. When I complained about how many kids she had invited over for get-togethers, I knew we didn't have to worry about social issues. When she won a college scholarship, I thought about all the learning issues that she could have had. So many worries, so much time wasted!
She was My Best Teacher.
In the end, SHE was my best teacher. She has never let her diagnosis define her or stop her and lives in the present moment.
Your life will be forever altered when you get the news that your child is sick, but there is also so much joy in watching your child grow up.
So please try to stay present as much as you can, and take time to enjoy your child.
---
How do you prioritise your own health when you're the parent of a high-needs child?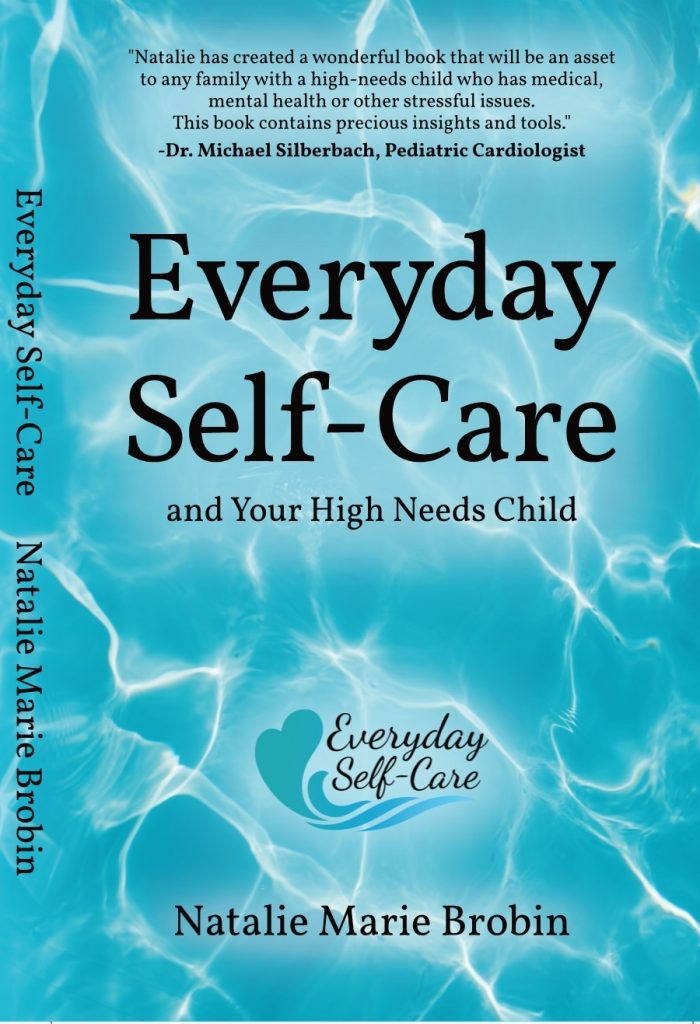 Natalie Brobin's life turned upside down when she found herself struggling to care for a daughter with a rare chromosomal disorder called Turner Syndrome, which can cause heart defects and delayed growth, among other health issues, particularly in girls. Struggling to prioritise her daughter's health amidst the everyday madness of raising two other children and thus juggling carpools, diving practices, family commitments and neighbourhood get-togethers, Brobin eventually had a nervous breakdown after a dear friend's death by suicide that left her determined to find another way to live. After rediscovering herself through a combination of therapy, yoga, advocacy work and writing, Brobin discovered the path to self-care for any parent of a special needs child (or even a typical one). Everyday Self-Care and Your High Needs Child provides concrete ideas on how to reduce stress through breathwork, meditation, nutrition, healthy sleep, therapy, laughter and positive outlets for stress.
Written in concise chapters, and drawing from the experience of other parents as well as the input of doctors, this book is the informed, experienced life coach in your pocket that every parent of a special needs child can use.
About the author
Natalie Brobin who has a Journalism degree writes about parenting, trauma, loss, grief and life. A registered yoga instructor and a Yoga Recovery 2.0 Coach, she's been published in The Mighty, Thrive Global and Light Hustler. She's also been featured in and on multiple media outlets for her advocacy on behalf of Turner Syndrome—the rare genetic disorder her daughter has. A dedicated volunteer for the Turner Syndrome Society of the United States, Brobin is currently working on a book called Everyday Self Care During Grief. Her blogs can be found at www.everydayself-care.com. She recently moved to California and enjoys daily walks on the beach.